Are you ready for a pain-free dentist visit?
At Morristown Cosmetic Dentistry, we offer laser dentistry for gum recontouring, treating gummy smiles, and addressing infected gum tissue. As a dental practice committed to high-end dental technology, we have employed the Gemini™ Diode Laser. It is the first dual-wavelength soft tissue diode laser available in the U.S. The Gemini Diode Laser is one of the most powerful lasers to provide quick, accurate, and sterilized dental treatment.
With laser dentistry, we can provide our patients with better accuracy, less discomfort, enhanced safety, and overall improved patient experience. Laser gum treatment can effectively reshape your gums, giving you a more balanced and healthy-looking smile. Consider our Morristown cosmetic dentist near you, Dr. Victor Gittleman, and our professional dental team as your partners in your journey to a more beautiful smile. Dental lasers are just one of the general dentistry treatments we offer to the public in Morristown, New Jersey.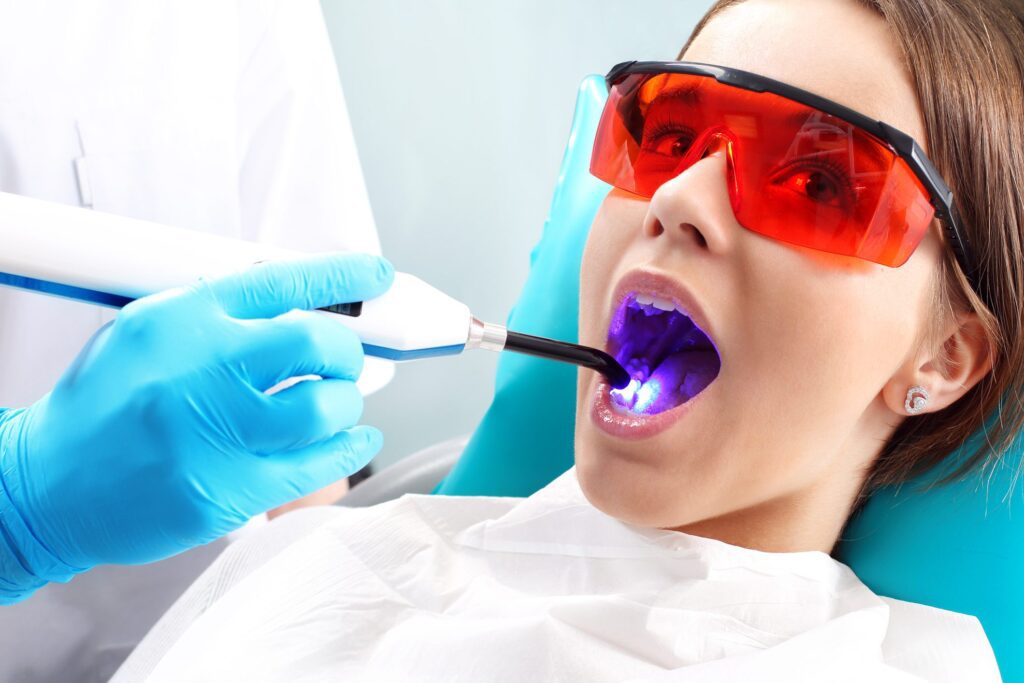 What Can Dental Lasers Address?
A soft tissue laser can address a wide range of cosmetic and restorative dental concerns. At Morristown Cosmetic Dentistry, we are committed to always providing our patients with the best that dentistry has to offer. We are proud to offer laser dentistry to ensure your dental experience is comfortable, safe, and positive.
During your visit, we may use dental lasers for the following procedures:
Correcting a gummy smile
Recontouring the gum line
Removing diseased or infected gum tissue
The Benefits of Laser Dentistry
Gummy smiles and receding gums have traditionally been addressed using a dental scalpel. However, using scalpels for these common procedures can cause anxiety for some patients. To improve the safety and comfort of our patients, Morristown Cosmetic Dentistry utilizes high-quality dental lasers for many cosmetic and restorative dental treatments.
A dental laser is a fine-tuned, handheld instrument that delivers a beam of high-intensity light. The beam is very narrow and precise so it guarantees to only come in contact with the affected area leaving the healthy surrounding area untouched. Additionally, this makes it easier to control so that the depth and cut are kept at an absolute minimum. Your treatment will be fast, predictable, and easily controlled by our dentist.
For many soft tissue treatments, such as gum recontouring and treating gummy smiles, dental lasers offer these key benefits to patients:
Ultimate Comfort: Dental lasers eliminate the need for traditional scalpels. Advanced dental lasers can skillfully remove unwanted gum tissue and often eliminate the need for anesthetic. Scalpels may feel uncomfortable as they scrape the gum tissue. Lasers offer painless treatment.
Unmatched Accuracy: With advanced dental lasers, Dr. Gittleman can precisely target unwanted gum tissue and offer optimal, natural-looking results.
Safety: Dental lasers seal blood vessels while removing unwanted gum tissue, decreasing bleeding, and eliminating the need for sutures. Lasers promote healing by stimulating the body's natural ability to regenerate healthy tissues.
Laser Dentistry FAQs
Are laser dental procedures painful?
There is usually significantly less, or no pain associated with laser dental procedures. Patients who undergo laser treatment receive nonabrasive treatment and their procedure is done with exactness and zero sedation. Lasers allow dentists to be exact with their placement so no nerves are touched, therefore no pain.
Can laser dentistry be used for cavities?
Laser dentistry can be used to help detect and fill cavities. Dentists can use the laser to detect the exact location of a cavity. They are then able to use the precision associated with lasers to fill the cavity with a pain-free experience and no drilling.
How Do Lasers in Dentistry Work?
Laser dentistry is a treatment that utilizes a laser to perform precise dental procedures. The laser can be used to cut and remove tissue, remove decay, and fill cavities. The major benefit of laser dentistry is that there is significantly less pain and abrasive harmful tools and treatment involved to fix any of your dental issues.
Laser Dentistry Near you in Morristown, NJ
Do you have a gummy smile? Would you like to explore your cosmetic dental treatment options? Visit Dr. Gittleman of Morristown Cosmetic Dentistry. To determine if laser dentistry in Morristown, NJ is right for you, call (973) 287-3337 or request an appointment online.