Missing teeth can produce many problems. Problems such as jaw bone deterioration, difficulty eating or speaking, and self-esteem issues. With advancements in modern dentistry, there are more options ready to address missing teeth than ever before.
Reasons for dentures:
Missing a full mouth of teeth
Missing an arch of teeth
Improve your beautiful smile and facial features
Improved ability to speak and chew
Enhanced confidence
Dr. Victor Gittleman offers conventional dentures, partial dentures, and implant-supported dentures that offer long-lasting, natural-looking results. Our Morristown, NJ, dental office near you offers treatment plans for patients with missing teeth. We work with you on an individual basis to find the best choice for your dental health needs. Dentures and partials are restorative dentistry treatments Dr. Gittleman offers patients in his dental office in Morristown.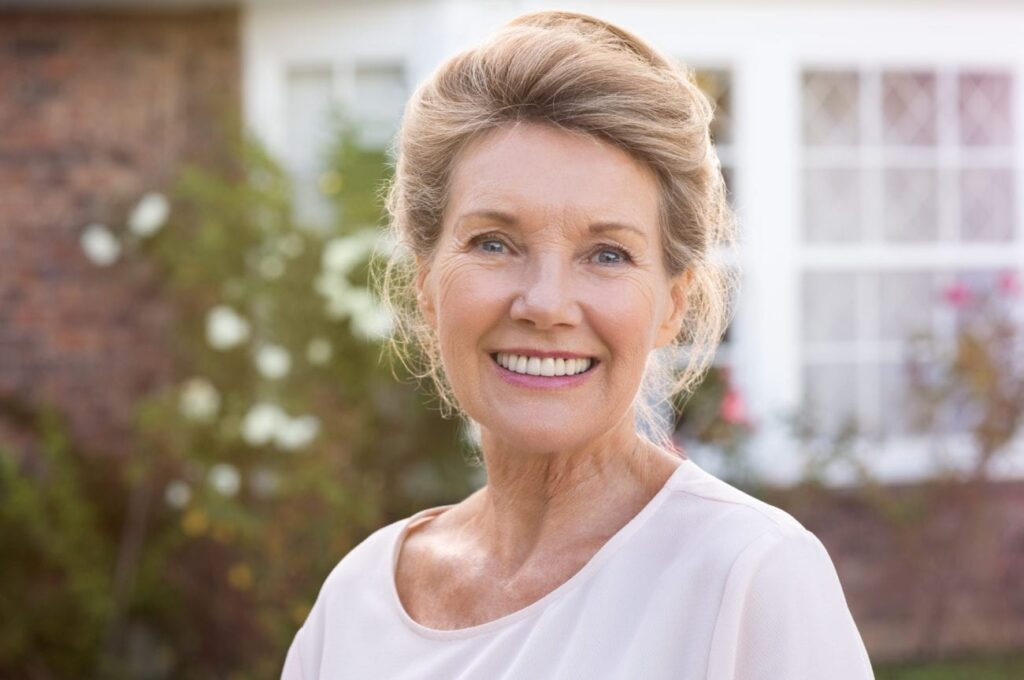 Dentures in Morristown, NJ
There are two main types of basic dentures and partials:
Removable Full Dentures. A removal denture is a custom oral appliance that a special adhesive holds in place. You will need to apply the denture adhesives daily.
Fixed Dentures. A fixed denture, or implant-secured denture, is a permanent prosthetic. Dental implants strategically hold this type of denture into place. Dr. Victor Gittleman provides All-on-4® Dental Implants as a modern alternative to traditional dentures.
Dr. Gittleman will discuss your treatment options and recommend the most suitable choice for your needs. The key to finding the right tooth replacement option is undergoing a complete exam and consult with our team.
During your visit, we will explore factors such as:
Jaw bone strength and overall health. It is key to have an adequate amount of bone structure in the jaw to support fixed dentures. We may recommend bone grafting or sinus augmentation to prepare your jaw for dental implants.
Budget. We will explore all of your treatment options and find one that best suits your budget and overall needs.
Cosmetic goals. Missing teeth can have an effect on your self-confidence. We offer natural-looking options for your tooth replacement needs and implement custom restorations for lost teeth.
What To Expect During The Dentures Process
Dr. Gittleman will perform a thorough evaluation of your teeth and jaw structure using advanced digital technology. He will discuss all viable options and recommend the best solution for your smile.
If you are receiving removable dentures, it will require many visits to our Morristown dentist office. First, we will need to extract any affected teeth. Next, our dentist will take digital impressions, and place a temporary denture while you wait. Dr. Gittleman will work with you to build custom dentures that blend naturally with your mouth.
If you are receiving implant dentures, we can perform all phases of your implant process in our Morristown dental office. The first step is placing the implants into the jaw. They will require many months to heal and integrate with the jaw bone. Once your mouth heals, we will take digital impressions to use to fabricate your denture. Your dentist may place a temporary denture to allow you to speak and eat normally while we create your new dentures.
Dentures FAQs
Do dentures cause people's faces to change shape?
Dentures can change the shape of people's faces, but this does not happen in every patient. It is more likely to happen if a patient is getting dentures because they are missing teeth. In most cases, patients like the way that their face shape changes because dentures can prevent facial sagging.
What foods can I eat with dentures?
We advise that patients should restrict themselves to a soft diet for the first few weeks after getting their dentures. This gives the patient time to adjust to their new teeth. Dentures function and feel like normal teeth, so once patients feel confident eating with their dentures they should be able to venture into any food group with no problems.
What is the best material for dentures?
Dentists make dentures using many different materials, each with different properties that match different patients' needs. The most commonly chosen material is porcelain. Porcelain best matches a patients' individual tooth shapes and colors. If you have questions about what may be the best material for you when choosing dentures, ask your dentist near you for their recommendations.
Schedule a Dental Exam & Consultation
Are you missing a full mouth of teeth and want to explore your tooth replacement options? Visit our trusted team at Morristown Cosmetic Dentistry. Dr. Gittleman can work with you one on one to assess your dental care needs and see if dentures are right for your smile. To schedule an appointment, call (973) 287-3337 or request an appointment online.