Do you suffer from dental fear or anxiety?
At Morristown Cosmetic Dentistry we are committed to helping each of our patients achieve the care they need. As one of the leading dentists near you in Morristown NJ, Dr. Victor Gittleman understands the importance of creating a safe, welcoming, and comfortable environment. We offer solutions and compassionate dental care for fearful and anxious patients so that they can enjoy a healthy and beautiful smile. Dental sedation is one of the general dentistry services we provide to patients that suffer from dental anxiety.
By building trust between dentist and patient, we believe patients with dental fear can address their fear head-on and may even view their visit in a positive light. Our personable and compassionate dental care team is committed to providing the ultimate patient experience. We work with you to better understand your needs, develop your personalized treatment plan and explain all phases of your care.
For patients with advanced stages of dental fear, we offer oral conscious sedation and nitrous oxide in our Morristown, NJ dentist office. Sedation dentistry can be a safe and convenient way to make your dental visits more comfortable if you suffer from dental anxiety. Dr. Gittleman will work with you to determine if sedation dentistry is right for you. Our dentist near you can provide two options for oral conscious sedation:
Oral sedation: Administered as a prescription sedative, oral sedation often requires an at-home dose. Oral sedatives take some time to both take effect and to completely wear off. For this reason you will need to arrange for an escort to and from your appointment.
Nitrous Oxide: Also known as "laughing gas", nitrous oxide is an inhalation sedative, administered through a tiny cannula placed beneath the nostrils. One of the benefits of nitrous oxide is its ability to take effect and wear off almost immediately for most patients. We will however always recommend that an escort come with you if you are to be sedated.
We do not offer IV sedation currently, which requires a licensed anesthetist to administer and monitor. However, patients are kept comfortable and relaxed using the most suitable oral conscious option while still able to remain responsive during treatment. If you have questions about dental sedation please address them with Dr. Gittleman during your next visit or consultation.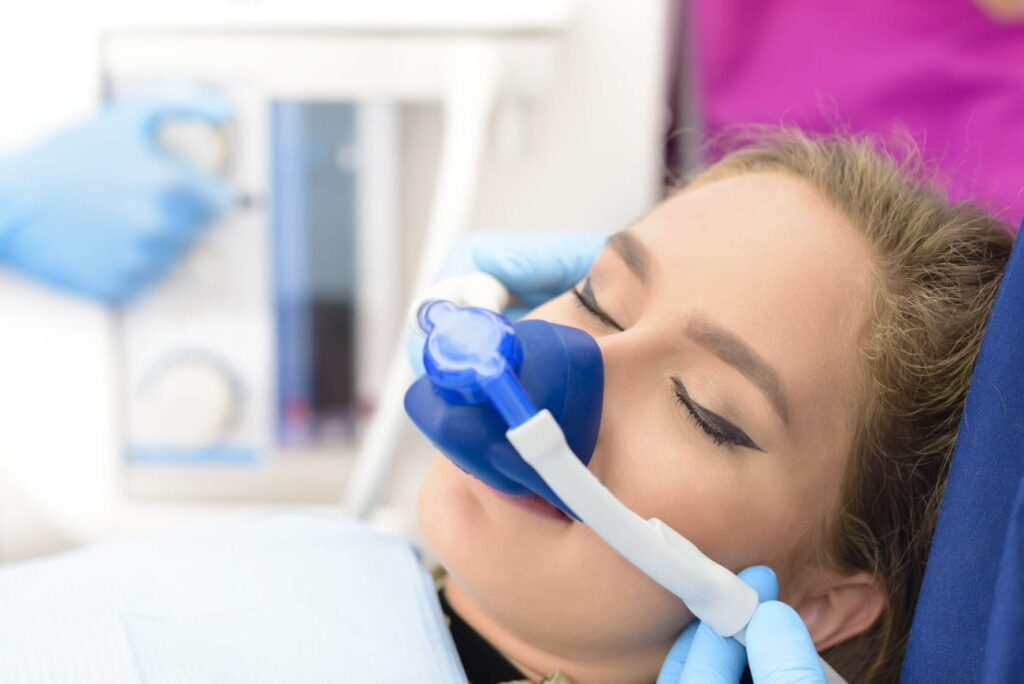 Is Sedation Dentistry Right For Me?
Dental sedation can be an ideal solution for patients with dental fear and anxiety. Similarly, it can also help patients with certain physical conditions receive the dental care they need. Sedation dentistry can help patients with the following conditions:
Movement disorders
Special needs
Strong gag reflex
Tooth sensitivity
To determine which form of sedation is right for you, we will explore your medical history, overall dental condition, and your treatment plan. Dental sedation is also ideal for patients who are undergoing multiple treatments or who are in need of advanced restorative treatment. At Morristown Cosmetic Dentistry, we offer nitrous oxide as our performed method of dental sedation.
What is Nitrous Oxide?
Nitrous oxide, commonly known as laughing gas, is a dental sedation method that evokes feelings of calmness. This form of sedation is typically the preferred method of sedation for many patients. Its effects take action quickly and diminish swiftly, allowing patients to drive themselves to and from their scheduled appointment.
Under nitrous oxide, many patients report feeling:
Relaxed
At peace
Sleepy
Warm sensation throughout their body
Less anxious throughout their treatment
Less pain and discomfort
What Are The Benefits of Nitrous Oxide?
With nitrous oxide, patients don't have to worry about coordinating a ride to and from their appointment Nitrous oxide is a fast-acting sedative that quickly diminishes once the patient removes their nasal mask.
Reduces pain and discomfort during your procedure
Enable patients with dental phobia to receive the dental care they need
Needle-free sedation options are available
Patients can have a more positive dental experience
Convenience
To ensure your ultimate comfort and safety, you are closely monitored during all phases of your care. With nitrous oxide, we can safely make adjustments to your dosage to ensure you are comfortable.
Find Your Calm with Sedation Dentistry at Our Morristown, NJ Dentist Office
To find out how our sedation dentistry can help you remain and relaxed and comfortable during your visit, visit Morristown Cosmetic Dentistry. Your ultimate comfort, safety, and experience are important to our team. To schedule an appointment, call (973) 287-3337 or request an appointment online.