Root canal therapy is a solution for teeth with infected pulp, allowing Dr. Gittleman to preserve the external tooth structure after removing the interior infection and stabilizing the tooth's pulp chambers with a state of art bio-ceramic cement. Keeping a natural tooth in place also preserves your bite structure. It also often avoids the more complex issues from an extracted tooth.
At Morristown Cosmetic Dentistry, we routinely perform all phases of the root canal endodontics treatment in the comfort of our Morristown, NJ, dentist's office near you. We make every effort to keep our patients relaxed and comfortable throughout all stages of their care. If you are experiencing dental pain or tooth sensitivity, contact our office for a one-on-one consultation with Dr. Victor Gittleman. Today's patients enjoy a dental treatment that is less invasive, less painful, and highly successful at restoring dental health with long-term results.
Dr. Gittleman has advanced training in root canal therapy and uses the latest technology for an accurate diagnosis and successful treatment outcome. Dr. Gittleman has helped countless patients save their natural teeth through root canal therapy and can typically complete the procedure in one visit. Root canal therapy is a general dental treatment to remove tissue inside the tooth that has infection and damage. This will alleviate pain, stop the spread of infection, and preserve the natural tooth structure.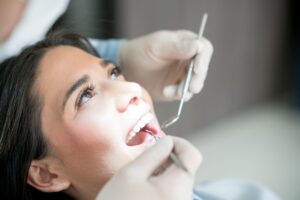 The Root Canal Procedure at our Dentist Office
Dr. Gittleman typically performs the root canal treatment in a single visit. The first step is to check and diagnose the tooth using 3-D imagery in our office. These high-resolution images give us an in-depth analysis of where the infection is, the tooth structure, and status of surrounding tissue. This is an important part of ensuring a safe and successful outcome.
To begin treatment, Dr. Gittleman first numbs your mouth with local anesthesia. Then, he creates a small hole in the tooth to remove the infected portion of the tooth, dental pulp, carefully. In many cases, we prescribe antibiotics to ensure we completely remove the infection.
Once your dentist removes the infected portion of the tooth, he will seal the empty space with bio-ceramic cement. Bio-ceramic cement is a revolutionary material that strengthens a tooth after a root canal. To ensure long-term stability for the tooth and your bite, we will recommend the placement of a dental crown after the root canal. Our team custom designs crowns and fillings that blend naturally with your existing teeth.
Why do I need a root canal?
A root canal is for patients with infected tooth roots. A tooth infection can spread to the center of the tooth, or the dental pulp. Inside the pulp are a series of nerves, blood vessels, and connective tissues. When the infection reaches the pulp, patients often report feeling tooth pain, tooth sensitivity, or overall discomfort.
The onset of the pain can often be rather sudden, but there can be early warning signs such as changes in sensitivity to temperature or a slight graying of the tooth. If you notice changes in how a tooth feels or appears it is important to address your concern as soon as possible as there is a chance that when caught early, more conservative treatment can resolve the problem.
Why choose Dr. Gittleman for my root canal?
Performing a root canal with a successful long-term result requires training, experience; and in modern dentistry, the use of digital technology. Dr. Gittleman is able to offer patients that need a root canal all of these important factors for success. From CBCT scanning in the office to the highest standard of materials, Dr. Gittleman can save your natural tooth and resolve your tooth pain.
In addition, we will place a dental crown on the tooth to provide consistency of care for the entire process. Typically, a patient may need to visit a specialist and then return to our office for the follow-up placement of the crown. However, we can do it all in our office. Dr. Gittleman will create a custom crown made of high-quality ceramic or porcelain for a lasting outcome.
Root Canal FAQs
Is a root canal procedure painful?
Contrary to popular belief, a root canal procedure is relatively painless. The pain you are experiencing is from the infection. This general dental procedure will get rid of infection in  your affected tooth. It will almost immediately relieve the pain you feel.
How do you know if I need a root canal?
Only a dentist can determine if you need a complete root canal treatment versus a tooth filling or other dental treatment. If you have excruciating tooth pain in a localized area in your mouth, you should see our dentist near you as soon as possible. Refrain from waiting too long or overusing tooth pain relievers, as this can cause more issues than help.
Is dental sedation necessary for a root canal?
You have the option to receive dental sedation during a root canal, but your dentist will not "put you to sleep" for a root canal procedure. The procedure is not as invasive and painful as you think. Most patients do not need dental sedation for this procedure and can be completely comfortable with the use of a local anesthetic.
Schedule a Root Canal Therapy Procedure
At Morristown Cosmetic Dentistry, we work with you to restore health and beauty to your smile after a root canal. If you are experiencing dental pain, tooth sensitivity, or have not visited the dentist in a while, visit our Morristown dental office for a consultation.
We proudly serve patients in Chatham, Madison, Mendham, and many surrounding communities. To schedule your appointment, call (973) 287-3337, or request an appointment online.