Morristown Cosmetic Dentistry offers complete services for dental implants at our Morristown, NJ, dentist office. The planning, placing, and restoring of the implants take place under one roof, saving our patients time and energy traveling to different offices. We use advanced dental imaging for the evaluation and treatment planning phases. These 3D images ensure the accurate placement of dental implants to guarantee the best results for our patients.
Dental implants are now a popular choice for people who want to replace damaged, broken, or missing teeth as part of a smile makeover. Teeth implants are advanced dental restorations that offer patients many advantages and benefits over traditional options. Despite costing more and the process being longer, dental implants are the only solution that functions, looks, and feels like natural teeth.
Benefits of Dental Implants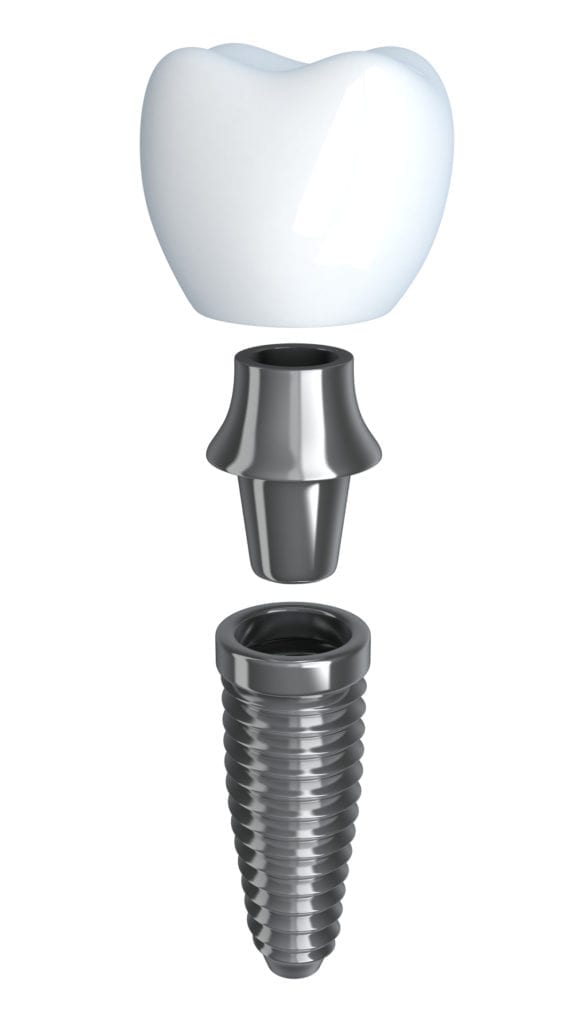 When compared to dentures and bridges, teeth implants offer greater biting strength. Fake teeth that are implant-supported have nearly the full chewing power of natural teeth. This allows patients to eat a variety of foods and maintain a healthy diet.
To place a dental bridge, the dentist will have to grind down the two adjacent teeth to accommodate the restoration. This will also add pressure to the two healthy teeth. Dental implants will only replace missing teeth and do not require harming healthy teeth.
Dental implants are the only restoration that replaces the root structure of the missing tooth. The implant will provide the stimulation necessary to prevent bone loss. Bone loss will actually alter the way a non-implant restoration (bridge or denture) fits and it may need to be adjusted or even replaced. Jaw bone deterioration can also cause the face to appear sunken in and the patient to appear older than they really are.
A lot of denture wearers report slurred speech and many other embarrassing situations. With dental implants, the patient will be able to laugh, eat, and speak confidently. Since they are surgically placed, the fear of their teeth slipping around in their mouth while eating and even possibly falling out mid-conversation is eliminated.
Implant-supported restorations are also known to last a long time. Teeth implants are made to withstand the wear and tear of daily life. Most implants will last 15-20 years and sometimes longer if cared for properly. This includes daily brushing and flossing in addition to any other care recommended for the restoration.
In general, dental implants hold a very high success rate, about 97%. Every patient is different therefore the success of their implants will depend on many factors. Be sure to discuss these factors at your consultation at our Morristown, NJ dentist office.
Implant restorations are the most natural-looking and feeling option to replace missing teeth. They do not require metal clasps to hold them in place and often these can be seen while smiling. Also, a messy adhesive is not needed to hold them in place.
Schedule a Dental Implant Consultation
If you are missing one or more teeth, we invite you to visit our Morristown, NJ dentist office to determine if affordable dental implants are right for you. To schedule an appointment, call (973) 287-3337 or request an appointment online.