Porcelain veneers can provide a custom smile makeover that is stable, strong, and long lasting. Porcelain veneers are often the perfect solution for tooth damage, cosmetic flaws, stained teeth, and gaps between teeth. Dr. Gittleman will enhance your smile by crafting them from ultra thin high-quality ceramic materials.
Your dentist can place porcelain veneers on a single tooth or many teeth. We can address a wide range of cosmetic and dental health concerns. Porcelain veneers offer years of gorgeous smiles and will support great long-term dental health.
Skilled and experienced in creating healthy, beautiful smiles, Dr. Victor Gittleman is a leading cosmetic and restorative dentist in Morristown. Dr. Gittleman can improve your smile over the course of two to three office visits with this cosmetic dental treatment. He has the training and skill to provide a smile makeover that can meet your oral health and aesthetic needs with brilliant results. Dr. Gittleman focuses on the integrity of your result during all phases of treatment by using modern digital software, and working closely with both the patient and dental lab.
Porcelain veneers can address the below cosmetic concerns:
Misshapen teeth
Gaps between teeth
Crooked teeth
Uneven or misaligned teeth
Chipped teeth
Teeth with surface cracks
Worn-down teeth
What To Expect During The Porcelain Veneers Process
The first step on the journey to a gorgeous and confident new smile is a consult with Dr. Gittleman. He will check the state of your teeth and discuss your cosmetic goals and expectations with you. We will help you decide if porcelain veneers are the right choice for you. First we will take digital x-rays. They are a key part of the information-gathering aspect of treatment planning. This ensures that there are no other dental concerns that could impact your outcome.
The ideal candidate for porcelain veneer should have the below traits:
Healthy teeth that are free of decay
No existing gum disease
Good amount of healthy tooth enamel
No trace of teeth grinding
Well-aligned bite
Next, Dr. Gittleman will create a diagnostic wax-up of your new smile. This is an important step in the process of placing porcelain veneers. It serves two main purposes:
A visual representation of what to expect for the patient.
A diagnostic tool for evaluating how the dental repair will affect nearby teeth and the function of the bite.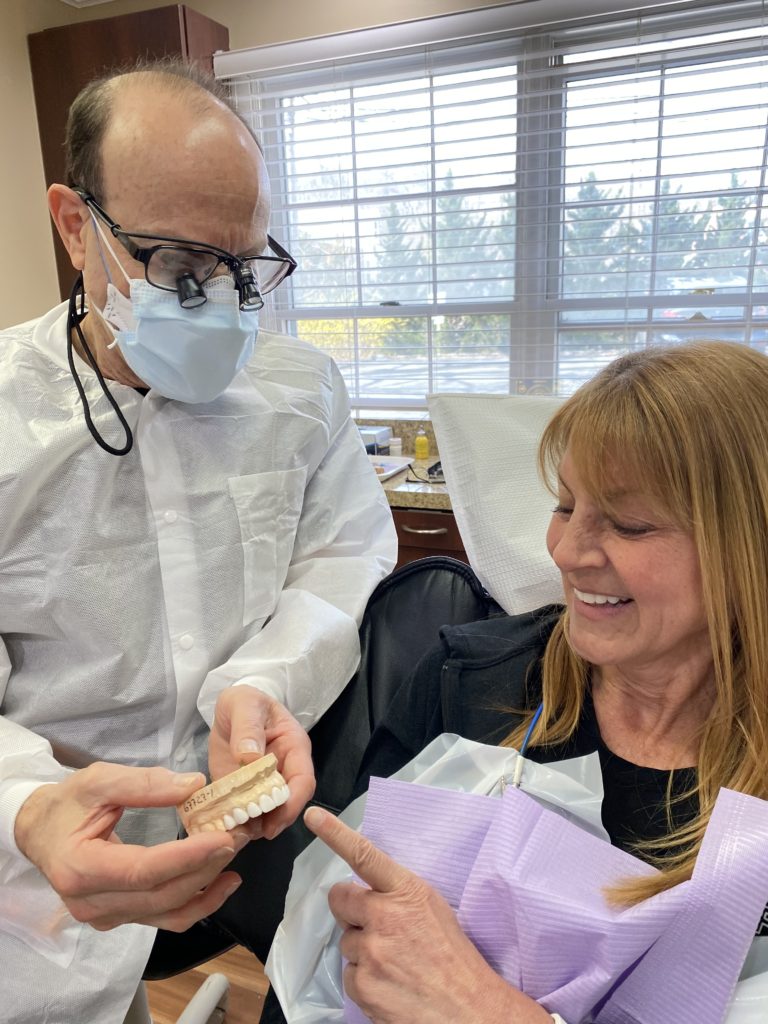 At the second visit, we will discuss the wax-up and make changes. Then, Dr. Gittleman will prepare the tooth by removing a small amount of enamel from its surface. He will not compromise the entire tooth structure. We are able to make temporary dental veneers in our office, and place them after tooth prep. Temporaries will protect your teeth and give you the chance to "try out" your new smile while the dental lab completes the final restoration.
At the final visit in your treatment process, Dr. Gittleman will place and permanently adhere your new porcelain veneers to your tooth or teeth. The attention to detail in the treatment planning and wax-up phase creates the base for a successful result and a beautiful, comfortable new smile.
At the final placement visit, we will provide daily oral hygiene and care instructions for your new dental veneers. Proper brushing, flossing, and regular dental visits will aid in the life of your new veneers.
Porcelain Veneers FAQs
Are porcelain veneers permanent?
Yes, for all intents and purposes porcelain veneers are a permanent restoration. They are not removable by the patient, or interchangeable. However, your dentist may remove them on rare occasions. If they are removed, your dentist may not be able to reattach them and will have to provide you with brand new ones. Porcelain veneers are thin shells, so it can be difficult to remove them without hurting them.
Will porcelain veneers raise my risk of developing cavities or tooth decay?
No. Porcelain veneers are made of a safe material that does not lend to tooth decay. Your veneers actually act as a barrier, protecting the front of your teeth. Although there is a small chance of developing cavities under your veneers. For example, in very rare cases where the dentist did not address a cavity before placing the veneer.
Can my porcelain veneers become stained?
No, dental veneers are highly stain-resistant because the material does not absorb color. They will not become stained like natural teeth, and you can not whiten them with teeth whitening procedures. For this reason, we advise that you get a teeth whitening treatment before getting veneers.
Porcelain Veneer Consultation in Morristown, NJ
At Morristown Cosmetic Dentistry, we proudly serve patients in Morristown, Madison, Chatham, Mendham, and surrounding communities. As one of the leading cosmetic dentists near you in Morristown, Dr. Gittleman offers the highest quality dentistry and personalized solutions for patients who want to enhance their natural smiles.
Do you want to learn how porcelain veneers can give you a personalized smile makeover? Explore your treatment options during a cosmetic consultation with Dr. Gittleman. To schedule an appointment, call (973) 287-3337 or request an appointment online today.