Are you missing one or more teeth? Have your lost teeth been affecting how you eat and speak?
If you are missing one or several teeth, our Morristown, NJ, dentist office near you offers custom dental bridges. We will restore health and balance to your smile. We provide comprehensive treatment plans for patients who are missing teeth. Dr. Victor Gittleman is a highly skilled and trusted restorative dentist in Morristown NJ, who works with patients on an individual basis to find their ideal solution for lost teeth.
Restore Missing Teeth With A Dental Bridge in Morristown, NJ
A traditional dental bridge consists of two crowns that are anchored by adjacent teeth. Dental bridges are attached to artificial teeth, which fill the gap created by missing teeth. We offer two types of bridge options: a traditional dental bridge, and an implant-supported bridge. An implant-supported dental bridge relies on dental implants, rather than the adjacent teeth, preserving the health and function of the adjacent teeth.
It is important to replace missing teeth as soon as possible to avoid the development of advanced dental issues. When a tooth is lost, patients are at an increased risk of bone shrinkage, tooth decay, and gum disease. Our team at Morristown Cosmetic Dentistry can assess your needs and determine which tooth replacement solution is right for you. Dental bridges are a restorative dentistry procedure we provide to the public in Morris, New Jersey.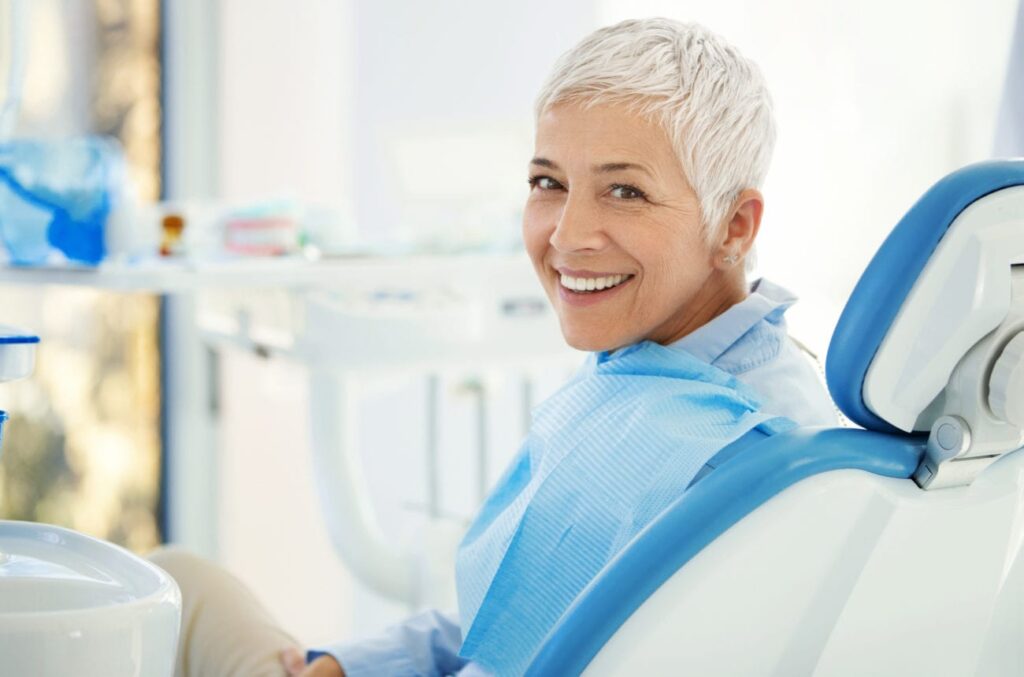 Choosing An Implant Supported Dental Bridge
If you are missing several consecutive teeth, an implant-secured dental bridge can replace them all. An implant-supported bridge consists of multiple dental implants, abutments, and several dental crowns to form a dental bridge that "bridges the gap" between teeth.
During your first visit, our team will evaluate your teeth, bone structure, and gums to determine if an implant-supported dental bridge or a traditional dental bridge is the best option for you.
Dental bridges:
Help preserve more of the natural tooth structure
Replace the natural tooth root
Stimulate the jaw bone to promote bone regeneration
Can improve eating, chewing, and speaking
Offer a permanent solution for lost teeth
Support a healthy functional smile
Are long-lasting
The Dental Bridge Process
Receiving a dental bridge requires multiple visits to our Morristown dentist office. Dr. Reff will perform the surgical phase on the implant procedure. Once the implants are placed in the jaw bone, they undergo a healing process for three to six months. After the titanium post fuses with the jaw bone, we can place the dental bridge.
If dental implants are not used, we will prepare the two anchoring teeth for a dental crown. Next, we take digital impressions of the teeth that are sent to a dental lab where the bridge will be fabricated. Then, a temporary bridge is designed and placed. During your second visit, we will remove the temporary bridge. The permanent bridge is adjusted and placed accordingly.
Dental Bridge FAQs
How many teeth can be in a bridge?
The amount of teeth in a dental bridge depends on the gap between teeth that the bridge is being used to fill. Most bridges fill a 1 to 4 tooth gap. Bridges attach to their surrounding teeth which gives them the ability to blend in and aesthetically fill gaps while matching and blending in with the surrounding teeth to fix dental issues.
Do dental bridges work like teeth?
Dental bridges look, feel, and function like natural teeth. Many patients report their bridge working better than their natural teeth, especially in patients who had damaged or missing teeth. Your bridge may take a couple of days to adjust to, but once patients have adjusted to the new feeling they should feel no restrictions and the bridge should feel entirely natural.
Are there any foods I should avoid eating with a bridge?
Yes and no; there are some recommended dietary restrictions that dentists make patients aware of after getting a dental bridge, but following this is not required. Over time, dental bridges start to wear down. Specific foods and drinks are known to cause bridges to wear quicker. These include any sticky or hard candy, gum, popcorn, coffee, soda, wine, and any food or drink with a high concentration of sugar.
Schedule a Dental Exam with our Dentist Near You
Would you like to explore your tooth replacement options? Visit Morristown Cosmetic Dentistry to learn more about dental bridges and determine if an implant-supported dental bridge is right for you. To schedule an appointment, call (973) 287-3337 or request an appointment online.