All patients will be screened for COVID 19 prior to entry into the office. This includes a wellness questionnaire and a temperature check. If you currently have or have had a temperature of over 98.6 in the past 48 hours you will not be permitted to enter the office or receive treatment until you have been fever-free for 48 hours. This office also reserves the right to request proof of up to 3 negative COVID tests for any patient that has had a fever or has been in contact with anyone testing positive for COVID as a condition to receiving dental treatment.
Please Watch our patient safety video for updated information on how we are keeping you safe as we reopen our dental practice and welcome back patients.
The dental office of Dr. Victor Gittleman has always exceeded all recommended and required infection control guidelines from OSHA, the CDC, and the ADA for the ongoing health and safety of our patients and staff. A clean and safe dental office is an important part of the high standard of dental care that we offer patients for their oral health needs. The daily cleaning and disinfection of all office areas, autoclaves for sterilization of tools and equipment, and aerosol reducing technologies are a part of our overall infection control protocols that have always been in place. The use of gloves, safety glasses, and patient chair covers is something we are already in the habit of doing as part of your office visit to maintain a clean and sterile environment.
In response to the recent COVID-19 pandemic, Dr. Gittleman has augmented our infection control and changed some of our patient check-in and treatment procedures to prevent the spread of the coronavirus and keep patients safe when visiting with us.
We ask that if you are sick or have been exposed to the coronavirus that you call our office to reschedule your appointment. If you have recently traveled please wait at least 14 days after returning to visit our office. These rules will remain in place until it is no longer a recommendation of the national health system and local governing bodies and are designed to protect all patients and staff.
BREATH EASIER WITH ENHANCED AIR PURIFICATION AT MORRISTOWN COSMETIC DENTISTRY
We are pleased to announce recent upgrades to our HVAC system made to enhance our existing comprehensive air purification measures.
The centerpiece of this project is the installation of the REME HALO air purification system which uses unique state of the art technology, called Reflective Electro Magnetic Energy (REME) to eliminate all types of indoor air pollutants including viruses such as COVID 19. The REME HALO is installed directly into the HVAC system and produces ionized hydrogen -peroxide molecules that are distributed throughout the entire office. These molecules then act to break down any signs of bacteria, viruses, mold spores, and odors, destroying them on the spot. This product is designed to replicate the natural process of hydrogen peroxide molecules that purify the air in the great outdoors and does not use any harmful artificial chemicals.
In addition, we have also upgraded our HVAC filters to Aprilaire MERV 13 Media filters to further enhance the quality of our air filtration systems and to provide our patients with the most advanced level of air purification available.
COVID-19: What to expect at your next visit
Dr. Gittleman has implemented new patient check-in procedures as an important part of minimizing contact for proper social distancing and to allow time between patients to disinfect the office and operatories. If you have questions about these changes or what to expect when coming in for your dental appointment please feel free to contact our office directly.
---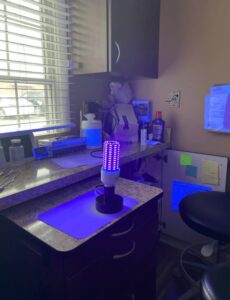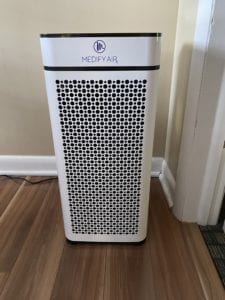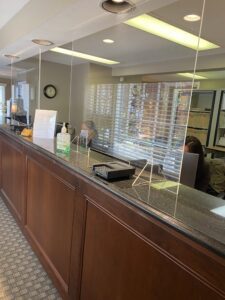 ---
What We Are Doing:
Curbside check-in and waiting for your appointment in your vehicle. Our waiting room and its amenities will remain closed until it is considered safe to allow patients to relax there before their appointment once again.
Patient appointments times are staggered to accommodate social distancing and ongoing sanitation of the office.
Patient health screening and temperature checks: We will ask you to complete a brief screening questionnaire that must be submitted to our office prior to your arrival. Upon your arrival, we will have your temperature taken with a digital thermometer.
Plexiglass partitions are installed at the front desk to provide contactless business transactions.
We will be offering text to pay on your cell phone or contactless credit card processing on sanitized equipment. We will also be going paperless wherever possible and will email most documents and receipts.
All staff will be in full PPE including N-95 surgical masks, face shields, and goggles for all procedures.
UV light disinfection technology has been added to our office and operatories. This will support our cleaning and surface sanitation and target both the air and exposed surfaces with germicidal UV light energy.
Medify air filtration using advanced HEPA filters are continually running to purify the air and reduce airborne pathogens in the office.
REME HALO air purification system which uses unique state of the art technology, called Reflective Electro Magnetic Energy (REME) to eliminate all types of indoor air pollutants including viruses such as COVID 19.
What Will Be Required of You
Please park your car in one of the numbered spots in our rear lot and call to let us know that you are here. We ask that you remain in your car until we are ready to see you and we will come out to escort you directly to a treatment room. We request that patients enter the office unaccompanied. For those patients requiring a caregiver to accompany them, we ask that this be limited to one person.
Patients will be required to wear a face mask when coming into the office.
All clinical patients will be asked to rinse for 1 minute with an antimicrobial/antiviral mouth rinse before any treatment is started.
Please do not bring extra guests that are not able to remain in a vehicle or wait in the parking lot during your appointment.
Please complete our COVID questionnaire online prior to your dental appointment if possible. THANK YOU!