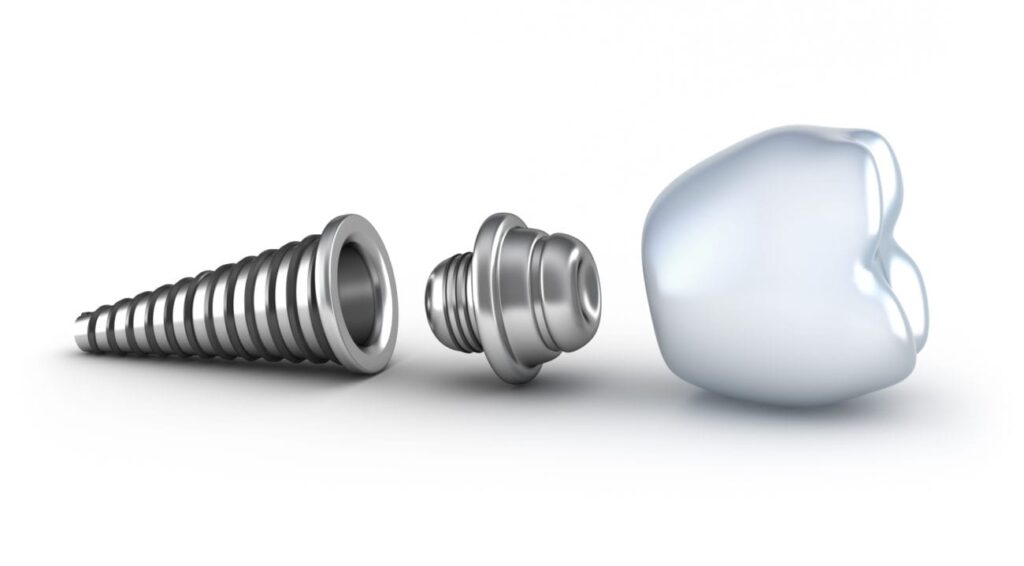 What are dental implants?
A dental implant does not make up a replacement tooth by itself, it is only one component. An implant is a small titanium post that is surgically placed into the jaw bone.
The next component is a small connector piece called an abutment. Finally, the replacement teeth are the last part attached to the implant/abutment. Affordable dental implants can secure a dental crown, fixed dental bridge, partial denture, or full denture. Since they are surgically placed, the dental restoration is more durable making them more like natural teeth.
What is the dental implant process like?
At Morristown Cosmetic Dentistry, we offer full services for dental implants. Unlike most other dentists, we perform every phase at our Morristown, NJ dentist office including the surgical implantation. This helps reduce downtime and lowers the total cost for you. The first thing we do is analyze your teeth, jaw, and surrounding structures using 3D images.
These will help Dr. Gittleman plan and place the implants. After the surgery, it will take anywhere from two to six months for the implants to fuse with the surrounding bone. Depending on where your missing teeth are located, we can secure a temporary restoration for aesthetic purposes. Once you are healed, we will attach the permanent restoration.
How many implants will I need?
The number of implants you will need depends on the type of dental prosthetic you are receiving. For a single missing tooth, only one implant is needed to secure a dental crown. For multiple missing teeth, the location and number will determine whether you need a dental bridge, partial denture, or full denture. The number of implants needed to secure one of the following will be determined at your implant consultation but can range from two to eight in total per arch.
What is All-on-4® Implant Dentures?
All-on-four implant dentures use only four dental implants to support a complete denture. This is a great economical alternative for people with an entire row of missing teeth and significant bone loss. This trademarked treatment procedure eliminates the need for a bone graft by strategically placing the implants at a specific angle to utilize the available bone. A temporary fixed denture will be attached immediately.
How long will dental implants last?
Dental implants can last forever if taken proper care of. They are not susceptible to diseases or decay but they rely heavily on healthy gums. Regular checkups and cleanings as well as strict at-home oral care are absolutely necessary to the longevity of the implants. The same is true for dental prosthetics. The better care it receives the longer it will last.
How much do implants cost?
Many factors go into the cost of an implant-supported dental prosthetic. The Morristown Cosmetic Dentistry team will work with dental insurances to maximize benefits, and provide affordable dental implant services for all patients.
What are the benefits of dental implants?
Dental implants are the only tooth replacement option to preserve the jaw bone, preserve the health of the surrounding teeth and allow for better chewing function. When compared to bridges or removable dentures, they do not require damaging healthy teeth and they do not slip around in the mouth or cause slurred speech.
Even though dental implants cost more upfront, other dental restorations will eventually need to be repaired, replaced, or adjusted. That cost will add up over the years. Affordable dental implants are the only option that will feel, function, and look like natural teeth.
Learn More About Dental Implants: