All-on-Four Implants in Morristown, NJ
Dr. Victor Gittleman provides All-on-4® Dental Implants as a modern alternative to traditional dentures. All-on-four is a revolutionary procedure that uses as few as four dental implants to support a complete denture. This is ideal for patients with significant bone loss in the back of the jaw. The implants are strategically placed, which eliminates the need for traditional bone grafting.
The beauty of All-on-four is that it allows patients who were not ideal candidates for implants the chance to get a permanent solution for their tooth loss. Implants help prevent further bone loss in the jaw as well as allow patients to maintain a more youthful appearance. All-on-four implants can restore balance and function to your natural smile.
Dr. Victor Gittleman offers a complete range of affordable dental implant services, including All-on-four Implants in our Morristown, NJ dentist office. We take a comprehensive approach to your restorative care to ensure all of your tooth replacement needs are met with compassion and expertise. Our modern dental practice uses advanced digital technology to develop more personalized treatments and eliminate the margin for error.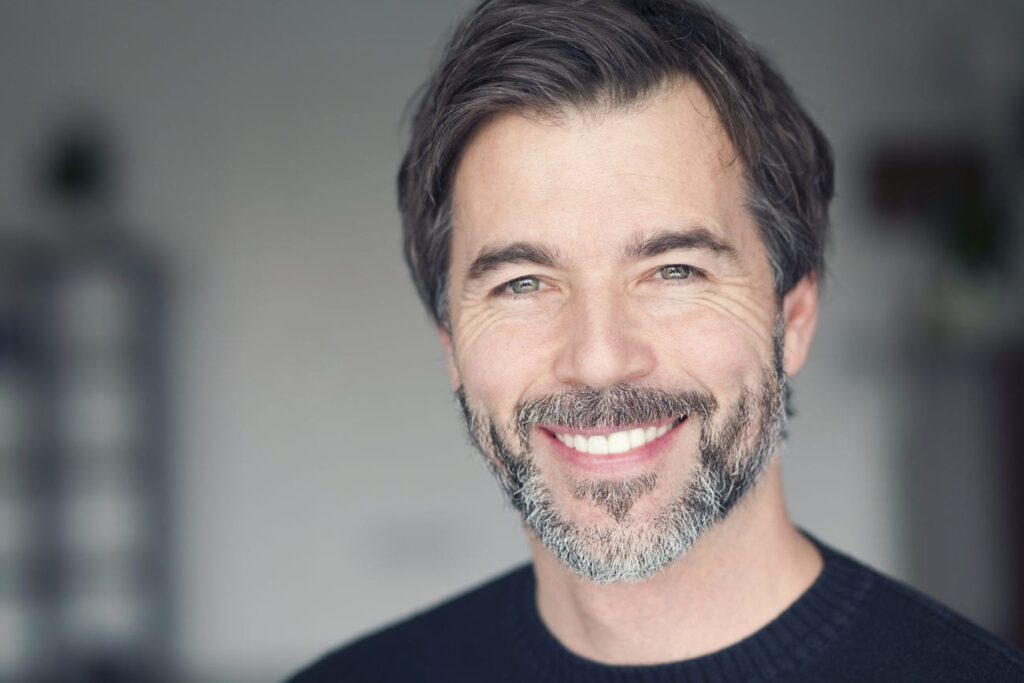 What is All on Four?
This renowned implant method utilizes as few as four strategically placed dental implants to replace the upper and/or lower teeth. All-on-four implants are ideal for patients who are not good candidates for traditional dental implants due to jawbone loss.
In some cases, patients have the option to have temporary fixed dentures placed on the same day as their implant surgery. At Morristown Cosmetic Dentistry, we perform every phase of the All-on-four implant procedure in-house, making the process as convenient as possible for all of our patients.
Is All-on-Four Right For Me?
Our team will perform a full dental evaluation to determine if All-on-four implants are right for you. X- rays and CT scans may be used to help us determine the health of your jaw bone. We will also discuss factors such as budget, overall dental health, cosmetic goals, and lifestyle to determine if All-on-four implants are the right choice for you.
How is All-on-Four Implant Treatment Performed?
At Morristown Cosmetic Dentistry, we take a digital approach to treatment planning and implant placement. CBCT technology allows us to place affordable dental implants and increase patient success rates accurately.
Once the permanent teeth are extracted, four implants are strategically placed in the upper and lower jaw. The specific positioning of the implants will depend on the unique needs of the patient. Your full dentures are designed with your needs in mind; they are created to look and function like your natural teeth.
Benefits of All-on-Four Implants
All-on-four implants are a cost-effective, economical, and low-maintenance solution for patients missing all of their teeth. With All-on-four, your custom dentures are held into place using strategically placed implants. You no longer need daily adhesives and don't have to worry about slippage when chewing or speaking.
The procedure is designed to maximize your comfort and yield high-quality, natural-looking results without compromising your dental health. All-on-four also offers these key benefits:
Does not require bone grafting
A high patient success rate
Natural-looking result
A comfortable and durable solution to tooth loss
When replacing missing teeth, it is imperative to find an experienced dentist near you who understands your needs. At Morristown Cosmetic Dentistry, Dr. Victor Gittleman works closely with our patients to deliver the smile makeover they are looking for. With All-on-four implants, patients can smile confidently again!
If you are searching for an experienced implant dentist in Morristown, NJ, schedule an appointment with Dr. Gittleman. To schedule an appointment, call (973) 287-3337 or request an appointment online.
Learn more about our dental implant services: