Family dentistry is an off branch of general dentistry that focuses on addressing the oral health needs of patients of all ages. Creating lifelong, healthy dental health habits begin from a young age. Establishing these healthy habits from a young age can lay the foundation for sustaining a healthy smile as patients grow.
At Morristown Cosmetic Dentistry, we focus on patient education, preventive dental care, and early detection of dental disease. Our team works with you to improve your dental health and deliver the dental care you need. At our Morristown family dentistry office near you, Dr. Victor Gittleman provides a full range of dental care services for patients of all ages.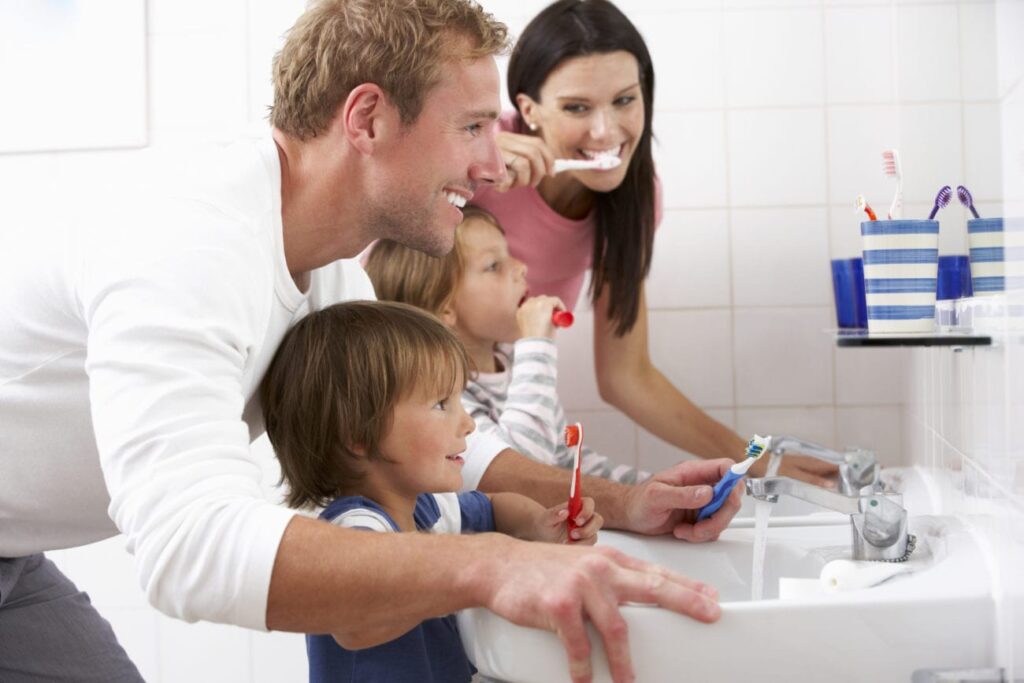 Family Dentistry Services in Morristown, NJ
When choosing a family dentist near you, you want to ensure that the dentist offers services to address the dental needs of every member of your family. At Morristown Cosmetic Dentistry, we provide a complete range of general, cosmetic, and restorative dental care services that can be tailored to meet your every need.
Dental services may include:
In addition to these services, Dr. Gittleman provides a full range of cosmetic dental solutions to address any aesthetic concerns as well as advanced restorative treatment to address issues such as missing teeth, bite disorders, and tooth damage.
Full-Service Dental Care Under One Roof
At Morristown Cosmetic Dentistry, we aim to deliver exceptional dental care to suit the needs of our patients. As a full-service dental practice, our office is equipped with the latest technology and materials that dentistry has to offer. By taking a more modern approach to dental care we are able to accurately diagnose dental conditions, improve the treatment planning process, and deliver high-quality treatments for all of our patients.
Our warm and attentive dental care team can answer any questions you may have regarding insurance, treatment, and scheduling. Our team believes that dental care visits should be convenient, efficient, and positive. We take the hard part out of visiting the dentist and make your visit as convenient and simple as possible.
Dr. Gittleman, along with our highly trained hygienists, takes great pride in developing lifelong relationships with each of our patients. We believe effective communication between dentist and patient helps create a more positive dental experience. We listen to your concerns, explore all viable treatment options, and walk you through all phases of your care.
We look forward to discussing how we can help every member of your family achieve and maintain optimal oral health, balance, and function.
Family Dentistry FAQS
How old should a child be when they first see the dentist?
The American Dental Association recommends that children see the dentist before their first birthday. Most babies have teeth that begin to come in around the age of 6 months. Once their teeth begin to come in it is important for them to see the dentist to ensure that their oral health is in line and their teeth are coming in properly.
Is a family dentist the same as a pediatric dentist?
A family dentist is not the same as a pediatric dentist. They have many similarities, as well as many differences. The primary difference between a pediatric dentist and a family dentist is the patients they see and care for. Pediatric dentists care exclusively for children, and also receive supplemental training to ensure that they are skilled and trained to be working with kids.
Many family dentists also receive training to work with children, but they also see adults as patients. Family dentists are concerned with the oral health of parents and children, while pediatric dentists only work with children.
How often should I schedule dental cleanings for myself and my children?
It is recommended that children and adults see the dentist every 6 months. Some at-risk individuals may need to visit the dentist quarterly, while some lucky ones will only need to go annually. In between dental visits being sure to keep up with your and your children's oral health and being consistent with a brushing and flossing routine will help protect your family's teeth.
Visit Our Family Dentist Office Near You in Morristown, NJ
Our team at Morristown Cosmetic Dentistry delivers high-end, patient-focused dental care to patients of all ages. Creating a healthy foundation is the key to achieving balance and function in your smile.
As one of the leading dentists in Morristown, NJ, Dr. Victor Gittleman understands the importance of building healthy smiles. We offer a full range of general dentistry services to address dental issues ranging from gum disease to cavities. Our office takes a proactive approach to your care to reduce your risk of complex dental problems.
If you are searching for an experienced family dentist in Morristown, Madison, Chatham, or surrounding communities, visit our Dr. Gittleman of Morristown Cosmetic Dentistry. To schedule an appointment, call (973) 287-3337 or request an appointment online.