Are you seeking a solution for damaged or missing teeth?
Our team at Morristown Cosmetic Dentistry can provide you with the restorative dental care you need. Dr. Victor Gittleman is a highly trained restorative dentist in Morristown with over three decades of experience repairing and rebuilding beautiful, healthy, and functional smiles. Our multidisciplinary approach to dentistry allows us to handle your tooth replacement and tooth repair needs all under one roof. Our team works with you to build treatment plans tailored to your unique needs. We proudly serve patients in Morristown, Madison, Chatham, Mendham, and surrounding local communities. Our Morristown dental office also provides comprehensive dental services to new and existing patients.
Full Mouth Rehabilitation in Morristown, NJ
For patients with missing teeth, bite disorders, or extensive tooth decay, a comprehensive full mouth restoration plan may be the solution you need to improve your smile. Most full mouth rehabilitation candidates have suffered extensive damage to their teeth– sometimes due to trauma, negligence, or complex dental problems. Our team at Morristown Cosmetic Dentist can plan and implement a full mouth rehabilitation treatment plan to improve your dental health and restore function and balance to your natural smile. Dr. Gittleman will assess your teeth, gums, and jaw to determine the best solution for you based on your needs, aesthetic goals, and expectations. A complete full mouth rehabilitation treatment may require several visits to our Morristown dentist's office.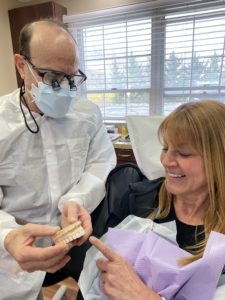 A series of dental treatments and procedures involving the teeth and gums is often referred to as full mouth rehabilitation or full mouth reconstruction. Creating a comprehensive, personalized, full mouth reconstruction treatment plan is key to restoring function and health to your smile. We utilize advanced dental technologies such as digital x-rays, intraoral cameras, and CBCT, to gain an in-depth view of the teeth, bone, and soft tissues in the mouth.
Dr. Gittleman will incorporate your digital diagnostics and cosmetic goals into the creation of a wax-mockup of your new smile. This is an important part of thorough treatment planning and a successful result. A wax mock-up helps you to visualize your new smile and also serves the important purpose of enabling Dr. Gittleman to evaluate and make any necessary adjustments so that your new bite is comfortable.
Replacing Missing Teeth
Replacing missing teeth is important for many reasons, from improving self-confidence to achieving better oral health. A complete set of teeth allow you to eat, speak, and chew comfortably. Even one missing tooth can have detrimental effects on your dental health and oral function.
Solutions for missing teeth may include:
We offer a range of tooth replacement options in our Morristown dentist office. Dr. Gittleman will discuss your dental needs and aesthetic goals before recommending an appropriate solution for replacing lost teeth.
Dr. Gittleman is a top Morris County implant dentist near you! For patients who are ideal candidates for dental implants, we offer full-service dental implant services. These include bone grafting, sinus augmentation, implant site development, and more. We are with you through the entire process, from treatment planning to post-op checkups. There is no need to visit different specialists or surgeons when you get dental implants at Morristown Cosmetic Dentistry.
Repairing Damaged Teeth
When chipped, cracked, or damaged teeth are left untreated, it can lead to a more advanced dental issue. If the teeth are damaged due to teeth grinding, a misaligned bite, or other functional issues, you may continue to experience tooth damage. In advanced cases, damaged teeth may increase your risk of gum disease and tooth decay. If you would like more information on gum disease and how we treat it, see Periodontal Therapy.
Prompt treatment is key to repairing damaged teeth. We offer a range of suitable treatment options to repair damaged teeth. Dr. Gittleman will work with you on an individual basis to assess your needs and recommend the best solution for your dental health.
Treatment options for damaged teeth may include:
Schedule An Appointment
Morristown Cosmetic Dentistry welcomes new patients to our Morristown, NJ dentist office near you. We also proudly serve patients in surrounding local communities, including Madison, Mendham, and Chatham.
If you would like to learn more about full mouth rehabilitation, repairing damaged teeth, or exploring your tooth replacement options, visit our office for a consultation. To schedule an appointment, call (973) 287-3337  or request an appointment online.