Are you searching for a quick and effective way to transform your smile? You may want to consider if professional tooth whitening is right for you.
If darkened, stained, or discolored teeth are affecting the appearance of your smile, it's only natural to find a solution to enhance the appearance of your smile. With affordable professional teeth whitening, you can eliminate the effects of stains caused by tea, coffee, wine, and tobacco use.
Morristown cosmetic dentist Dr. Victor Gittleman offers advanced tooth whitening solutions that can brighten your smile up to 10 shades in one office visit. We invite you to visit our state-of-the-art dental facility in Morristown New Jersey for the cosmetic dental treatments you desire. Dr. Gittleman provides customized solutions for every patient as an experienced cosmetic dentist near you who commits to achieving beautiful, natural-looking smiles.
Teeth Whitening Options at Morristown Cosmetic Dentistry
Visit Morristown Cosmetic Dentistry for a cosmetic consultation. During your consultation, Dr. Gittleman can assess your smile and recommend the most appropriate solutions for you. For optimal results, we will perform an intensive dental cleaning before any tooth whitening procedure.
In-Office Teeth Whitening
We provide in-office teeth whitening in the comfort of our Morristown dental office. Using modern dental tools and professional-grade bleaching agents, we can safely and effectively brighten dull, stained, and discolored teeth. This method of tooth whitening typically requires an hour-long visit to our office, so patients can achieve the smile they desire at their own convenience.
At-home Teeth Whitening
Take-home teeth whitening is one of the most popular cosmetic solutions among patients. It allows patients to whiten their smiles on their own time. At-home teeth whitening will require a few visits to our Morristown cosmetic dentist office. During your first visit, Dr. Gittleman will take molds of your teeth to create a custom whitening tray. To whiten your smile at home, you will need to fill your custom whitening tray with the teeth whitening gel that we provide. You can wear trays overnight or periodically throughout the day.
Whitening For Life in Morristown, NJ
How would you like the chance to maintain a healthy, beautiful smile?
Enjoy a lifetime of a whiter, brighter smile with our Whitening For Life Program.
After each in-office teeth whitening treatment or your enrollment in our Whitening for Life program, you will receive a custom tooth whitening tray. For patients who are consistent with their routine appointments, you will receive a free whitening syringe during your routine dental office visit.
In order to receive your free whitening gel, you will need to schedule your twice-yearly preventive care visits. Keep in mind that if you miss your regularly scheduled appointment, we may cancel your membership. We strive to help our patients achieve a healthy, beautiful smile. Through our Smile for Life program, patients can improve the health, function, and appearance of their smiles.
Ask about the Whitening For Life Program at your next dental visit to Morristown Cosmetic Dentistry.
Over-The-Counter VS. Professional Teeth Whitening
There are a full range of over-the-counter teeth whitening products that claim to brighten your smile. In many cases, over-the-counter teeth whitening doesn't have the bleaching agents you need to effectively whiten stained teeth.
Since over-the-counter whitening solutions aren't strong enough to effectively penetrate the tooth enamel, they often produce inconsistent, low-quality results. In theory, patients may need to spend more time and money to achieve their ideal smile with over-the-counter whitening.
With economical professional teeth whitening, many dentists utilize professional-grade bleaching agents and high-end dental technology to dramatically whiten stained, dull, and discolored teeth. Whitening your teeth at the dentist increases the chance of achieving your ideal smile, reduces the risk of tooth sensitivity, and allows you to customize your treatment plan to best suit your needs.
Benefits of Professional Teeth Whitening:
Allows patients to whiten their teeth during one office visit
Treatment is custom to meet your cosmetic goals
The results are noticeable immediately after treatment
Take-home teeth whitening will enable you to brighten your smile on your own time
At Morristown Cosmetic  Dentistry, we offer both in-office teeth whitening as well as custom take-home teeth whitening trays.
Zoom!® Chairside Whitening System
As one of the most common teeth whitening systems, ZOOM! utilizes professional-grade bleaching agents and advanced dental software to deliver dramatic, long-lasting results. When light hits the ZOOM! whitening gel, it allows the bleaching agents to penetrate the tooth enamel. This process provides a more intense and effective whitening on the surface of the teeth.
With a simple 45 minute treatment, you can effectively brighten your teeth up to 10 shades. For those considering affordable teeth whitening in Morristown, NJ, Dr. Gittleman and our team at Morristown Cosmetic Dentistry can work with you to determine if teeth whitening is right for your smile.
Benefits of ZOOM! Teeth Whitening
Achieve whiter, brighter teeth with the ZOOM! teeth whitening advantage.
While there are many over-the-counter options, none compare to the powerful agents that ZOOM! teeth whitening provides. With professional teeth whitening, our team can deliver consistent, high-quality results for patients who want to enhance their natural smiles.
In addition, patients can look forward to these top benefits from ZOOM! teeth whitening:
Can brighten the teeth up to 10 shades
Reduces the risk of tooth sensitivity
Safe, proven treatment
A quick option to enhance the overall look of your smile
Predictable results
Prior to your treatment, Dr. Gittleman will assess the condition of your teeth, gums, and overall dental health. This will help him decide if you are a good candidate for professional tooth whitening.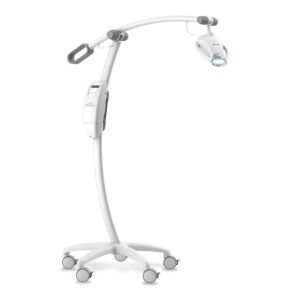 How Does ZOOM! Teeth Whitening Work?
Once the teeth have undergone a complete dental cleaning, your dentist places a splash guard to protect your clothing. He will also give you special eyewear to protect your eyes from the lights.
The ZOOM! whitening procedure consists of these steps:
Your dentist will place cheek refractors to expose the surfaces of the teeth
Then we will protect your gums with a special film
The dentist then applies the hydrogen peroxide bleaching agent to the affected teeth
A special LED light will activate the whitening gel
At the 15 minute mark, we will remove the whitening gel and reapply it for another round
We will periodically check results and complete treatment when you are happy with the results
Without proper maintenance, your teeth may return to their original state. To uphold your results, it is crucial to follow a healthy oral hygiene routine, avoid stain-causing habits, and visit our dentist office for routine cleanings and exams.
In addition, we also provide take-home teeth whitening kits so you can make periodic touchups to your teeth. With every in-office teeth whitening treatment, we provide customized take-home teeth whitening treatment.
Teeth Whitening FAQs
Can you whiten a single tooth that appears gray or faded in color?
No. A dentist can not whiten teeth that have deep stains due to medications, genetic dispositions, or other reasons with traditional teeth whitening services. We can however whiten gray teeth with cosmetic dentistry since these stains are cosmetic in nature. Porcelain veneers are a great option for this specific issue.
Can you whiten dentures with teeth whitening procedures?
No. You can not whiten your dentures with traditional teeth whitening services, although you can take steps to help gradually reduce staining. At-home remedies, as well as store-bought whitening products, can keep your modern dentures whiter and cleaner. If you have an old set of stained dentures, we recommend replacing them with stain-resistant modern dentures.
Will teeth whitening leave my teeth permanently sensitive?
No. Teeth whitening procedures attack stains on your tooth enamel. This process leaves your tooth enamel free of stains, but temporarily sensitive to hot and cold foods. Air hitting fresh tooth enamel causes the temporary sensitivity that you feel. This should go away in a couple of days. We do not recommend teeth whitening if you already have very sensitive teeth.
Get a Whiter, Brighter Smile with Tooth Whitening in Morristown, NJ
Are you searching for a solution to improve the appearance of your smile? Visit Morristown Cosmetic Dentistry to explore your tooth whitening options.
With ZOOM! tooth whitening patients can effectively whiten their smiles and eliminate the need for over-the-counter whitening solutions.
If you would like to learn more about how ZOOM! teeth whitening can help you achieve a brighter, more luminous smile, visit our Morristown dentist office near you. To schedule a quick tooth whitening appointment, call (973) 287-3337 or request an appointment online. We proudly serve patients in Morristown, Chatham, Madison, Mendham, and surrounding local communities.