At Morristown Cosmetic Dentistry, we ensure everyone in our area has access to the best quality dental care. Though our office is in Morristown, we welcome patients looking for a good dentist in Florham Park, NJ, and surrounding communities. Our state-of-the-art dentist office offers a comfortable environment and advanced technology for quality care.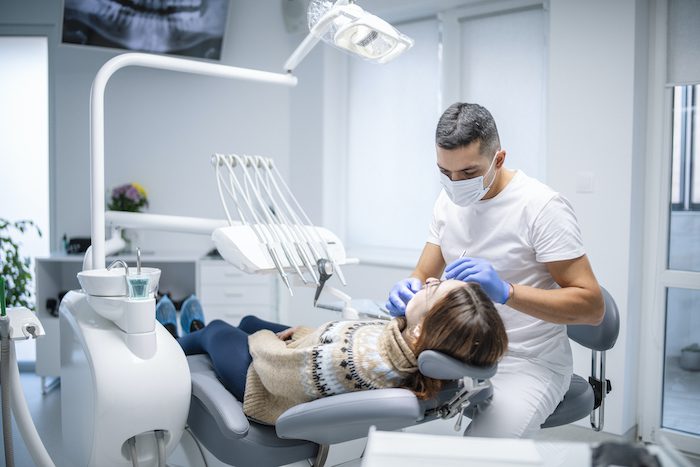 Complete Dental Implant Services
Our office provides every step of the dental implant process under one roof. You aren't sent to various specialists because we can surgically place the implant post and finish your restoration. Doing everything in one place also ensures the comfort of our patients. Our dedicated dental team is with you every step of the way, and you always have a familiar face.
Dr. Victor Gittleman is one of the most advanced implant dentists in the country. He continually trains to learn new techniques and technologies for our dental implant service to be the best. He's a fellow in the International Congress of Oral Implantologists, an accomplishment only achieved by those at the highest level of implant dentistry.
We offer various different types of dental implant procedures. These include single dental implants, multiple dental implants, and All-on-4 implant dentures. We have a dental implant solution for each of our patients with missing teeth. Dental implants are the ideal solution to replace everything from one to all your teeth.
Dental implants come with benefits that no other dental restoration has. They're the only tooth replacement solution that replaces the tooth root as well as the crown. This provides a stability that only they can offer. They look and feel the most like your natural teeth. You get back almost 100% of your bite function.
Treating TMJ Disorders
Particularly after the COVID pandemic, TMJ disorders have increased within the population. One of the most common causes is clenching or grinding your teeth, which you do more often if stressed. The more you repeat this habit, the more your jaw joint is impacted. The muscles and ligaments around it become strained, and the jaw joint breaks down.
Without treatment, TMJ can become a debilitating, painful condition that impacts your everyday life. Many patients with TMJ experience headaches that can increase to migraine levels, especially upon waking up. You may get to a point where your jaw no longer functions normally. You may only be able to open it to a certain point, or it may get stuck in a certain position.
To diagnose TMJ, we physically examine your jaw and listen for any popping or clicking sounds when you move it. We'll also talk to you about your everyday life and how it functions when you're doing different tasks. Digital imaging allows us to take a look at the internal structures of the jaw joint and determine the current state of the joint.
TMJ is often the result of many different factors. We have to determine your condition's causes so we can treat the appropriate ones. Sometimes, you need orthodontic treatment to reposition your teeth or the jawbone. As well as Botox treatments, physical therapy and jaw exercises can assist with function. A combination of treatment options may be needed.
Schedule an Appointment With Your Florham Park, New Jersey-area Dentist
We're currently welcoming new patients of all ages at our office. Call us or schedule an appointment online to get started.