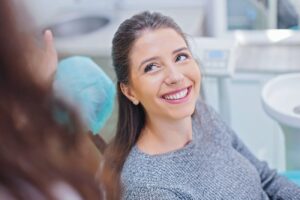 Did you know that leaving missing teeth unaddressed can affect the health and function of your smile?
In addition, it can also affect your self-confidence. At Morristown Cosmetic Dentistry, we believe that every patient should have a smile that they are proud to show off. We understand that missing teeth can have lasting effects on your oral health, as well as the appearance of your smile. Our team offers a complete range of solutions for missing teeth, including dental implants in our Morristown dental office. Implants are designed to replace the tooth root as well as the visible portion of your tooth. This advanced solution is often the top choice for patients who are missing one or more teeth. Read on to learn more about the top benefits of dental implants.
Implants Can Restore Function
One of the most common issues that patients with missing teeth face is the ability to chew and speak confidently. Dental implants can help restore function by creating an equal biting force so you may chew and speak without worry. In addition, implants can help prevent further bone loss in the jaw and may even help promote further bone growth. Having a stable jaw structure is beneficial to your chewing function.
Implants Can Improve The Appearance of Your Smile
Missing one or more teeth can be detrimental to your overall confidence. With dental implants, our team can rebuild your smile and restore the confidence that you lost. We work with you on an individual basis to design custom implants that not only restore function to your smile but also improve the appearance of your smile.
Implants Are Customizable
Not sure if your tooth replacement options are going to blend naturally with your existing teeth? Well, our team at Morristown Cosmetic Dentistry can work with you to design dental implants that appear naturally alongside your existing teeth. We take into consideration factors such as your overall dental health, facial structure, and your cosmetic goals to design implants that suit your every dental need. We understand how much your teeth can affect your appearance, so we take a personalized approach to your dental care to ensure all your needs are met.
Dental Implants in Morristown
Now that you have uncovered the top three benefits of dental implants, it may be time to schedule a consultation with one of the leading implant dentists in Morristown, NJ. Dr. Victor Gittleman has undergone years of training in restoring and replacing missing teeth with dental implants. If you would like to determine if dental implants are right for you, call (973) 287-3337 or request an appointment online.