At Morristown Cosmetic Dentistry, our Morristown, NJ, dentists are committed to helping patients get healthier and brighter smiles. During this uncertain time, we urge patients to only come to our office for emergency care. We also want to remind patients to maintain their oral health. Many dental issues can arise when patients are stressed. Patients may clench or grind their teeth during sleep or become more prone to problems like mouth sores and gum disease.
To learn more about the services that we offer to our patients and to answer some of the frequently asked questions about emergency dental care, read on: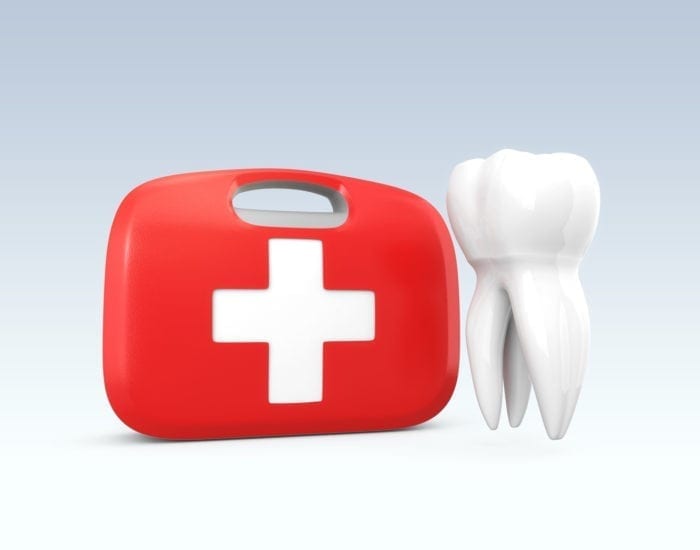 Emergency Dental FAQs
Learn the answers to frequently asked questions about emergency dental care below:
What do I do if my tooth gets knocked out?
If your tooth has been knocked out contact our dentist office immediately. If possible, retrieve the lost tooth. Lightly rinse the tooth and place it in a cup of saliva or milk to transport it to us. A tooth that is preserved like this may be able to be replaced within one hour of loss.
What do I do if I am feeling severe tooth pain?
You can take an over-the-counter pain reliever to improve symptoms. In severe cases, your pain may be caused by tooth decay or an abscess. Schedule an appointment with Morristown Cosmetic Dentistry if pain persists and apply a cold compress if you are experiencing swelling.
What do I do if my denture or dental bridge breaks?
If possible, schedule an appointment at our office and bring the broken appliance with you. We will help you determine the best treatment plan for replacing the denture or dental bridge.
What do I do if my dental crown or filling falls out or breaks?
Contact our office, and one of our dentists will be able to construct and fit you with a new dental restoration. Do not attempt to re-glue your restoration.
Contact Our Office
Are you looking for comfortable dental care? Call Morristown dentist Dr. Gittleman for relaxing dental treatment at (973) 287-3337. Your comfort, health, and safety is our priority.