Dental implants may seem like a more costly option than removable dentures or dental bridges. However, there are key benefits that dental implants can offer for both oral health and quality of life that should be taken into consideration when weighing the cost against more traditional options.
Implants are naturally functioning, permanent tooth replacements that can be used to restore one or more missing teeth. Morristown, NJ, dentist Dr. Victor Gittleman is a highly trained restorative dentist with the skill, knowledge, and experience necessary to help patients achieve a new smile with predictable, exceptional results.
Benefits of Dental Implants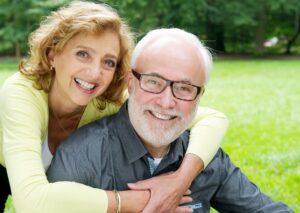 Implants replace teeth at the root to stabilize the jaw, gums, and entire dental structure. Removable dentures require daily adhesives. Both dental bridges and dentures sit on top of the gums and do not combat problems like gum recession or irritation. Patients who choose dental implants fully restore their bite function and can eat the foods they love without any dietary restrictions. Dental implants not only function like natural teeth but blend in with the rest of your smile because they are capped off with porcelain dental crowns.
Dental Implant Cost Factors
The total cost of your dental implant treatment plan is largely dependent on the condition of your oral health, the number of implants being placed, and the location of placement. Treatment costs will vary from patient to patient. If you require a single tooth implant, it will often cost less than if you receive implant-secured dentures to replace whole arches of teeth.
For patients with compromised bone or periodontal concerns, additional treatment to establish a healthy oral foundation for the placement of an implant can add to the overall cost of your treatment.
It is important to also consider the long-term cost of a dental implant vs. a removable appliance. Once in place, your dental implant is stable and secure. There is no need to use adhesives daily, and you can brush and floss along with your natural teeth. For implant dentures, we will provide daily care instructions for maintaining your oral health.
As an added benefit, implant-secured restorations minimize the impact of tooth replacement on soft tissues, avoiding the onset of gum disease and other complications from an appliance that can move around and irritate the gums over time. This reduces dental care costs in the long run and can often offset the initial cost of placing dental implants.
Insurance and Payment Options
We understand the concerns that patients may have about the cost of tooth replacement. We encourage you to schedule a consultation to explore your treatment options and discuss benefits and costs.
We offer convenient financing through CareCredit with low monthly payments for qualifying patients. Our office will work with you to maximize your insurance benefits whenever possible. Although most dental insurance companies will not cover the complete cost of dental implants, they may cover a portion. Our office can help you to determine any dental health benefits.
Schedule a Consultation
If you have one or more missing teeth, call Dr. Gittleman for implant care at (973) 287-3337 or request an appointment online. Dr. Gittleman will be happy to answer any questions you may have.