If you are in the market for a new dentist, it can be difficult to know what to search for in a dental practice. Dr. Victor Gittleman, a dentist in Morristown, NJ, describes four qualities you should look for before choosing a new dentist.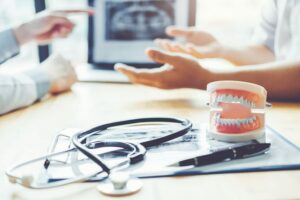 Certified and Highly Trained Dentist
A good place to start when researching a new dentist is the dental practice's website. This should include information about the dentist's credentials, including their certifications and specialized training.
If this information is not clearly displayed on their website, this could be a red flag. You should feel confident that your dentist is skilled and experienced enough to treat your dental health proficiently.
Advanced Technology
The dentist's website should also include details about the technology available at the office. The ideal dental practice should feature up-to-date equipment. With the best tools, you can be sure you are getting the highest quality of dental care from a practice committed to providing a premium standard of treatment. Our office uses advanced technology that allows us to give our patients the best experience possible. 
Positive Reviews
An effective way to learn more about a dentist is to read their online reviews. These come from patients who provide honest feedback about their experiences.
Reading their opinions about the dentist, staff, and quality of care can give you valuable insight into whether you should visit this practice for your own dental needs. These reviews should reveal any concerns about the dental practice that you can take into consideration before giving them a call.
Welcoming Environment
You can schedule a consultation with the dentist to meet them in person before you start to see them for regular appointments. This can provide an optimal opportunity to ask questions or voice concerns about what you can expect during dental visits.
This consultation allows you to meet the staff at the practice, where you can determine if they offer a warm, caring environment. You will also be able to see the office with your own eyes and notice if the area is clean, tidy, and welcoming.
Schedule an Appointment with a Dentist in Morristown, NJ
Morristown Cosmetic Dentistry offers general dentistry, both preventative and emergency care, to patients in Morristown, NJ. Dr. Gittleman also specializes in cosmetic and restorative dentistry for patients of all ages. To schedule a consultation or appointment with us, contact our office online or reach us by phone at 973.287.3337.