Do you know that your oral health influences your overall well-being?  Regular visits to your dentist help maintain more than just a healthy smile; it also helps to prevent common health concerns that can arise from dental neglect. Don't let dental anxiety stand in the way of properly caring for your teeth.  At Morristown Cosmetic Dentistry, we offer a worry-free environment for taking care of your dental needs. We invite you to browse our reviews as an initial introduction to our office and to see what others have to say about our exceptional care.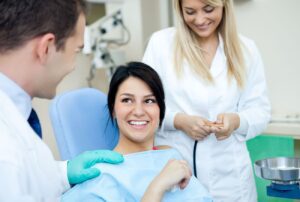 Welcoming Office
When you visit Morristown Cosmetic Dentistry, one of the first features you will notice is the modern office space. Our staff ensures our patients are comfortable from the moment they step through our door.
You can expect a warm and friendly welcome from our dental team that will continue through your entire experience at our practice. We maintain thorough communication about what you can expect during your treatment to alleviate potential nerves. You can feel confident that our staff will answer any questions to your satisfaction.
You can visit our website to learn more about Dr. Victor Gittleman, a dentist in Morristown, NJ, and the highly personalized dental care you can experience at his office.
Modern Dental Equipment/Full Range of Dental Services
Our dental practice uses advanced dental equipment, so you can be sure that your oral health concerns will be treated with the best technology available. The dental team is highly trained to handle these tools and determine the ideal treatment plan for your unique dental needs.
Morristown Cosmetic Dentistry is one of a few general dental practices using cutting-edge CBCT 3D imaging for comprehensive diagnoses and treatment planning for services like root canals and implants. We also implement digital impressions whenever possible for enhanced patient comfort.
Complimentary Consultations
If you are nervous about visiting a new dentist, Morristown Cosmetic Dentistry aims to reduce your dental fear by offering a free 15-minute consultation appointment before scheduling a teeth cleaning or other dental work. You can meet your dentist face-to-face, creating the perfect opportunity to address any concerns you may have about your anticipated procedure.
You will also be able to tour the dental office during this appointment so you can familiarize yourself with our environment, ensuring you are more comfortable during your scheduled dental work. Our entire staff will communicate each step of your expected procedure during your entire experience with us so that you can feel safe and secure.
Schedule a Dentist Appointment in Morristown, NJ
Morristown Cosmetic Dentistry offers teeth cleanings and a full range of dental treatments to patients in Morristown, NJ. Dr. Gittleman also specializes in cosmetic, restorative, and implant dentistry for patients of all ages. To schedule a consultation or appointment with us, contact our office online or reach us by phone at 973.287.3337.