Dr. Victor Gittleman is an expert dentist offering general, cosmetic, and restorative dentistry to patients of all ages. We value our patients and their experiences in our office and appreciate their feedback on our services.
Several of our patients recently shared their experiences through video testimonials to explain why they recommend dental treatment from Morristown Cosmetic Dentistry. Read on to see feedback from these existing dental patients about the care we provide in Morristown, NJ.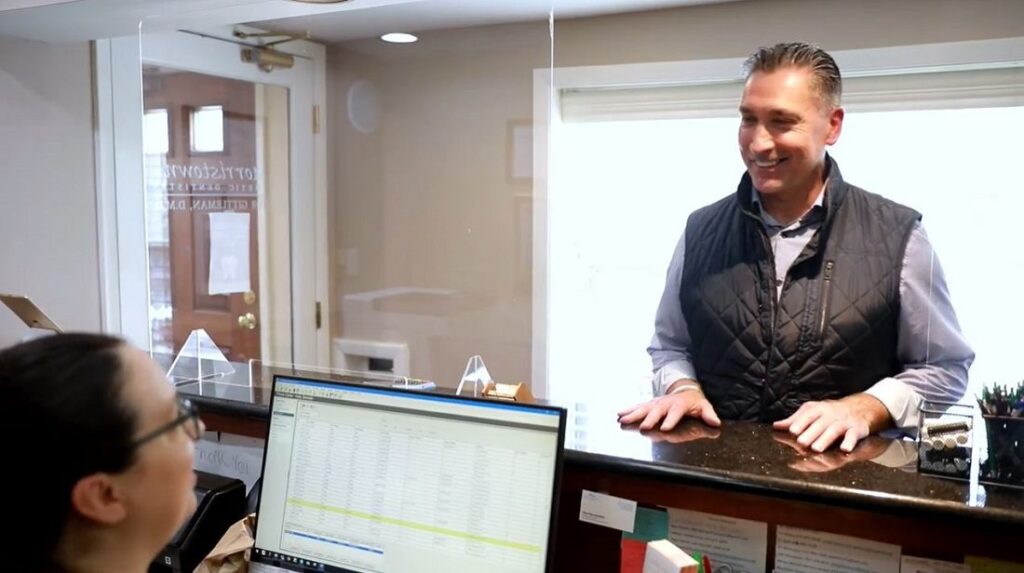 Check Out Our Recent Dental Patient Testimonials
"I highly recommend Morristown Cosmetic Dentistry. Amazing staff. Amazing dentist. All around, wonderful experience." – Bill
Bill called our dental practice after reading excellent reviews about our care online. Specifically, he sought advice for tooth replacement treatment as he was frustrated with his existing dental bridges that had failed and wanted to evaluate his options including dental implants, which turned out to be a great solution for his needs. Bill was highly satisfied with the expertise and attention to detail provided by Dr. Gittleman, which far exceeded his expectations and experiences at other offices.
"After coming to Morristown Cosmetic Dentistry, I was smiling a lot more than I had been over the past few years." – Collette
After years of dental neglect, Collette knew that it was time to find a dentist she could trust to take care of her dental health. She researched several offices before deciding upon Morristown Cosmetic Dentistry, where she immediately felt at ease with Dr. Gittleman and his warm and caring staff. Thanks to the personalized and compassionate care she received at the office, she was able to feel calm during her implant dentistry treatment. Patient comfort is a top priority at our office, and we will always go above and beyond to help you remain at ease in our office.
"When I first saw my new smile, I was blown away how natural it looked… really, it was perfect." – Matt
Matt scheduled a cosmetic consultation with our office to address a gap between his teeth that had been bothering him for years. He was immediately impressed with the way that Dr. Gittleman and his staff were able to explain his treatment plan in easy-to-understand terms as well as the overall ease of the process. Within two months, Matt had a gorgeous, natural-looking smile he felt proud of. Dr. Gittleman provides successful cosmetic dental solutions because of his personalized approach to each patient's unique smile.
"As a professional athlete, I always try to stay on top of my game, and it's no different for Dr. Gittleman." – Randy
Randy, a former NHL hockey player, was no stranger to the dental office before coming to Morristown Cosmetic Dentistry for a broken tooth. He was so pleased with the success of his treatment and the attention to his comfort throughout the process that he continued seeing Dr. Gittleman for all of his dental needs. As a professional athlete, Randy also has a deep appreciation of Dr. Gittleman's high skill level and dedication to continuing education, making him a stand-out performer in the dental field. Our patients can feel confident trusting their dental health to Dr. Gittleman, who has an outstanding record of patient care.
"Morristown Cosmetic Dentistry is a great fit for me and my family because it's the perfect combination of warmth and also having the best technology and care possible." – Sue
Sue and her family are long-time patients of Dr. Gittleman. From routine dental care to more complex restorative procedures, Dr. Gittleman has handled every one of her family's dental needs with skill and compassion. Sue is extremely appreciative of Dr. Gittleman's ability to keep nervous patients, like her daughter, at ease during their treatment. She is also grateful to Dr. Gittleman for his life-changing treatment of her more complex dental needs with his advanced training and state-of-the-art equipment. Dr. Gittleman and his team are dedicated to improving the lives of others one smile at a time.