With warm weather's arrival, you are likely looking forward to traveling. Whether you intend to visit loved ones or relax on vacation, you should not take a break from taking care of your smile.
You can prevent dental problems when you plan your trip with oral health care in mind. Dr. Victor Gittleman, a dentist serving patients in Morristown, NJ, offers advice to patients who want to maintain their beautiful smiles before they travel and while they are away.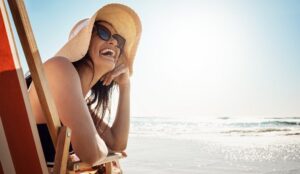 Visit Your Dentist Ahead of Your Trip
As you schedule fun activities for your vacation, you should also consider booking a routine appointment with your dentist before you go. Your dentist can clean your teeth so that you can feel confident that your smile is both beautiful and healthy.
During these appointments, your dentist will also evaluate your oral health by examining your teeth and gums. You will not have to worry that a dental emergency is lurking in your smile, waiting to disrupt your trip. Get any potential dental problems fixed with the dentist you trust before you leave.
Don't Forget to Pack Oral Hygiene Supplies
Your toothbrush, toothpaste, and floss are likely at the top of your packing list since you use these items every day. But if you hope to pack light, you might be searching for travel-size toiletries that will not take up much space in your suitcase.
Mini toothbrushes are compact and easy to carry. You may also want to consider finding a brush that folds after use or comes with a storage box. This will keep the brush clean and prevent it from accumulating bacteria or germs when not in use.
For more convenience, you might prefer disposable toothbrushes. These brushes feature built-in toothpaste and will not require water. They will be easy to use on the go.
Plan Dental Care Before You Leave
Whether you want to relax or keep a busy schedule during your trip, you should plan to maintain proper oral hygiene as you travel. Skipping teeth brushing and flossing will mean that plaque will remain on your teeth.
The residue will eat away at the enamel of your teeth if not removed promptly. This could put you at risk of developing cavities and other dental concerns. If you factor good oral hygiene practices into your travel agenda before you leave for your trip, it will be easier to stick to healthy habits without compromising your trip.
Ask Your Morristown, NJ Dentist for More Oral Hygiene Tips
Morristown Cosmetic Dentistry provides teeth cleanings and other preventative dental care for patients of all ages. Dr. Gittleman is a skilled dentist in Morristown, NJ who also specializes in general, restorative, and cosmetic dentistry, including teeth whitening. To schedule a consultation with our practice, contact our office online or reach a member of our staff by phone at 973.287.3337.